Study Music; "make your brain happy"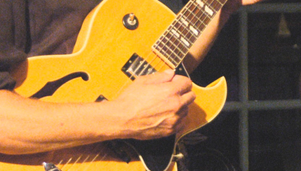 Lessons on: Guitar, Flute, Mandolin, and Electric bass. 
We all know that music is a great way to entertain and express our creativity. It can also be an enjoyable social activity.
The benefits of playing a musical instrument, however, go far beyond that for the individual.
Recent educational studies have shown that students who learn to play a musical instrument also do better in other academic areas and learning to improvise opens up pathways in the brain that help in many other endeavors. A quick google search on the subject will back this up with more articles than I care to footnote.
Students of all ages benefit from the physical and mental aspects of learning to play a musical instrument.
Follow this link to a fascinating short animated video on what happens to the brain when we play a musical instrument.
http://trendinghot.net/what-playing-a-musical-instrument-does-to-your-brain/
I have been teaching music both privately and in academic situations since 1976 when I was student at Berklee College of Music in Boston. For me, teaching is one of the most rewarding parts of being a musician. I love to share ideas and talk about what I have learned.  I love watching people improve and learn to play their instrument. I enjoy working with the students one on one and tailoring the lesson to their needs.
When I first started I taught mostly beginners and was passing along the things I was learning. I always liked the quote, "the best teacher of the ignorant is the novice". It definitely rang true for me then.
I graduated with a degree in composition in 1980 and have never stopped studying and learning about the art form. After almost forty years of professional performance experience and many, many, students, I have honed my teaching skills to really target what each individual student needs. Not all students need or want the same things from music lessons.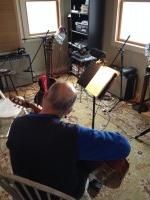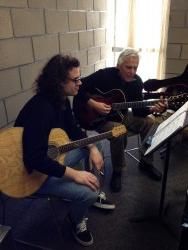 I teach and play all styles of music. I teach all levels of students from beginners, to long time players who want a fresh approach, to advanced students that may go on to professional careers. I teach all ages from middle school on up. I have had students from ages 12-86 years old!  If the student is interested in jazz or classical music, learning to read standard notation is a must. If the student is a beginner and interested in playing rock or folk songs, I will work with them to find the correct hand positions.  I will help them with chord voicings, melodies, and solos.  Ear training is essential for all students as well as some music theory to gain an understanding of harmony and chord construction. I include this in the right amounts in all lessons depending on the level and needs of the particular student.
I have had many revelations and "ah ha" moments along the way in my journey as a perpetual student of music. As with anything we work at for a long time there are moments when things just click!  I happily pass these along to my students. Maybe they wont have to wait as long as I did to come to some of these realizations.
I am currently the jazz guitar teacher at CCRI in Warwick RI. It is a wonderful program and the students a very dedicated and talented. I recommend this program to everyone. I also ran the jazz music ensemble program at The Wheeler School in Providence for 10 years.
I am now teaching at my home studio in South Kingstown and have access to space at Wakefield Music Co. in Wakefield RI.
I do not teach via the Internet only person to person, one on one.
Please feel free to contact me for more information.